Posts tagged
lore-mastery
19
Today I'm finally going to take a look at something I've been meaning to get around to ever since this column started – pets. I'll be giving a quick overview of the basics each pet, including tips on their specific skills and a general overview of when to use them. More interestingly for experienced lore-masters though is that I've gone and collected some data on important aspects of pet performance, including DPS, attack speed and the all important flank chance. The general conclusion from the results won't surprise you, but I certainly learned some new things from putting these numbers together. I'll begin with a general overview of the combat pets in the order that you can learn them, and then report the stats as a summary at the end.
Also, I'm not going to go into the details of the flanked mechanic. If you don't know what it is, it's a vitally important part of playing a lore-master effectively and I highly recommend you check out one of the guides elsewhere on the web such as this one.
All images in this article are from Lotro-Wiki.
Lore-master pet overview
Raven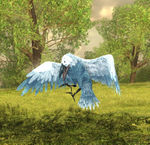 Damage: Low
Flank rate: High
Coolest skin: Frost Raven (Tier 1 jeweler single use recipe, random drop)
Food: Bag of crumbs, gives increased fire/shadow mitigation, melee offence rating and evade rating. This is pretty useful and you should definitely carry some with you.
Skill 1: Benediction of the raven – Should be used frequently to debuff fire resistance (useful for your own skills and hunters with fire oils and fire RKs), but not autocast as its duration far outweighs its cooldown and it'll drain your pet's power.
Skill 2: Distraction – Gives a 50% debuff to ranged damage which stacks additively with wind lore, such that ranged mobs will actually move into melee range if you hit them with both. Also gives a small miss chance debuff. Should definitely not be autocast as your pet cannot flank while it is active (flanks only proc off auto-attacks) and given that it's a 30s duration on 1min cooldown, this would mean that you'd get no flanks for 50% of the time.
Skill 3: Evasion – huge defensive buff, very useful as a reactive skill to save your raven from AOE damage (eg. draigoch claws).
Passive skill: Shield of the raven's wing – The raven gives all of your fellowship a tactical mitigation buff, which is very relevant in end game raids with lots of tactical AOE damage. This does not stack with other ravens, but it isn't raid-wide so if you have 2 lore-masters, put them in different fellowships and have both use the raven where relevant.
Comment: The raven is an excellent default pet to use in any situation. Its high flank rate, slight fire DPS boost and anti-archer skill make it a great solo option and its tactical mitigation buff make it a very good option for group situations with high AOE damage.
Example fights: ToO – Lightning, Fire & Frost, Saruman. Foundry. Pits of Isengard.
Bear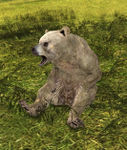 Damage: High
Flank rate: Medium
Coolest skin: Tundra cub (Tier 4 jeweller recipe, requires the jeweler to have kindred with the Lossoth of Forochel)
Food: Pot of honey and oats. Increased fire/acid mitigation, armour value and perceived threat. Possibly the most useful pet food going around, especially if you're trying to have the bear tank stuff while soloing (although, see below).
Skill 1: Bear hug – 3sec stun. This is quite a useful stun option to add to the lore-master's existing toolbox of stuns. Use this reactively, not autocast.
Skill 2: Roaring challenge – 10s force taunt. Powerful, but potentially dangerous in group situations. Make sure you know what you're doing with this and only use it if absolutely necessary, because it can potentially cause problems with causing mobs to turn around and do frontal AOE where they shouldn't, or just confuse the heck out of your tank. However it can be great to save a tank that's dying, or pull aggro back off a hunter to give the tank time to get threat back. It's also obviously useful soloing too.
Skill 3: Shatter arms – this is THE reason to use the bear in group situations, it's a 30s +10% incoming melee/ranged damage debuff on a 1min cooldown, so effectively a 5% increase in the group's physical DPS. This should generally be autocast.
Comment: This is a very useful and versatile pet. The biggest mistake people make with the bear is that they think just because it's got a taunt that it's a "tanking pet" like some pets in other MMOs. I'll be very clear here – the bear should never be able to tank your current DPS target. Even at level 75 it does only 100dps, and so even with all of the possible +perceived threat debuffs (which can get it closer to about 200TPS in total), if you're doing so little damage that the bear can tank your current target then you're doing something very wrong. However, the bear IS a great off-tank while soloing – send it off to fight a second target and its high armour and threat generation will ensure that it stays alive and keeps the other mob interested even if you throw the occasional heal or AOE skill. The stun and force taunt options are also useful while soloing, offset by a lower flank rate than the raven. Essentially it's a matter of personal preference as to whether you use this or the raven as your default solo pet. For group situations, it's a great option with all of its skills being quite relevant, particularly shatter arms and roaring challenge is a good tool to have to recover from a broken mez. Imo the bear should be your default group pet, only being swapped out for other pets in specific circumstances (such as tactical AOE damage).
Example fights: ToO – Trash, Acid, Shadow. Draigoch. Roots of Fangorn.
Lynx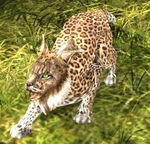 Damage: High burst, medium sustained
Flank rate: Low
Coolest skin: Spotted lynx (Tier 3 jeweller single use recipe, random drop).
Food: Cut of meat. Increases fire/shadow mitigation, and melee crit and defence rating. You probably won't be using the lynx much at end game, and the bonuses are relatively small so this isn't a particularly useful food to carry around.
Skill 1: Suprise attack – Does a big chunk of damage from stealth. This skill will revolutionise your soloing from level 30 (when you earn the lynx) until about the mid 40s. At this level range it does a huge chunk of damage to a mob, regularly taking out a third of the mob's health and up to 50% if you get an in-position critical attack. The skill doesn't scale all that well with mob health levels, declining to about 15-20% by level 75. This should be autocast, and you can use the pet summon skill return to master to reset the stealth status of the lynx before combat to make sure it's available.
Skill 2: Feral strike – AoE slash attack. Don't use it in the, somewhat unlikely, event that you're cc-ing targets around the lynx. Otherwise, have it on autocast.
Skill 3: Slashing claws – Ditto.
Passive skill: Savage bleed – puts a moderate damage bleed on a mob on a critical hit.
Comment: As noted above, this is a great early game soloing pet and will greatly speed your killing of landscape mobs. In fact, it does so much damage on a surprise attack that it can actually tank mobs for you reasonably well at lower levels. It becomes much less relevant as mob health levels increase and you level up and get better pet options, but it's not a bad option for a skirmish pet and definitely helps speed up slayer deeds. You're unlikely to ever want to use this in an end-game group situation though.
Example fights: None.
Eagle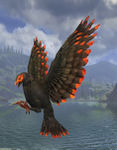 Damage: Low
Flank rate: High
Coolest skin: Unfortunately, the best two eagle skins are store-exclusives – Tundra eagle and ember eagle. The other skins are fairly lackluster imo.
Food: Bag of crumbs, the same as raven.
Skill 1: Fan the Flames – Fears mobs that are affected by the burning embers DoT for 15s. This is a pretty useful cc option while soloing, and the only lore-master fear. It's way too fiddly and slow to be used as reliable cc in group situations though, but it can sometimes be useful in an emergency.
Skill 2: Beak rend – AoE damage and self-heal. This should be autocast unless you're using cc.
Skill 3: Sacrifice – The only self-resurrection available in the game. You should always keep it on autocast, but it's a bit fiddly to use. The main thing you need to know about it is that it is, bizzarely, an attack. So it can only proc if, when you die, the eagle is both alive and currently attacking something. If it is, it will quickly do this attack immediately after you die and you'll get resurrected where the eagle was when you died, and also get a 10min debuff preventing you from receiving this resurrection again. If you remember this limitation, you'll find that it's quite usable and can be extremely useful in both solo and group situations.
Passive skill: Interrupt – The eagle will automatically interrupt it current target (also the only automatic interrupt ability in the game). There seems to be an internal cooldown on the skill of about 10-15sec, and it does have a chance of missing, but it's still a really useful skill especially seeing as lore-masters don't have a proper interrupt. Nobility – The eagle also gives your entire fellowship a small ICPR buff – this is being increased to 85 at level 75 with update 7 (it's currently 60).
Comment: This is the pet you earn from your level 50 class quest legendary trait and imo it's certainly deserving of its legendary status. It's an awesome option for soloing through moria, with a great flank rate for self heals and increased melee damage, an interrupt which is great for all of those annoying orcs and goblin skills and the fear cc option. Also, I've used and abused that self res in moria frequently – running right through masses of mobs to get to where i needed then dying and ressing when my pursuers have all run back to their places. Plus, it's always a nice option to have if you just happen to die and your normal revive is on cooldown.
The eagle is alwo frequently a good option in group situations too, either if you're healing (it's got the highest flank rate of any pet and combines excellently with improved flanking) or just as a backup interrupter, particularly in smaller group content where you might not have a champ or burg who can spam interrupts. Plus, the ICPR bonus is somewhat handy.
Example fights: Fangorn's edge, Dargnakh Unleashed.
Sabertooth cat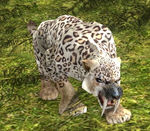 Damage: Moderate, higher in AOE situations
Flank rate: Low
Coolest skin: Spotted sabercat (Tier 5 jeweller single-use recipe, random drop)
Food: Cut of meat, same as the lynx.
Skill 1: Frostbite – AoE damage and an odd frost damage debuff. Odd because there's almost no frost damage skills in the game. RK frost skills are primarily debuffs, not damage, and the lore-master's only frost damage skill is gust of wind which does pathetic damage. The sabertooth's special skills do all do frost damage but it's not very significant. Should be autocast.
Skill 2: Fury of winter – Frost AoE attack which causes a flank on a critical hit. Autocast.
Skill 3: Throat slash – Frost AoE attack which can start a FM if used on a flank.
Comment: Probably the worst and most situational pet. It's not a very good solo pet because its AOE ability isn't often useful on landscape mobs and other pets simply do better damage or have more relevant special abilities. Its special abilities have far too low % of coming off to be of any real use and its frost debuff does nothing for us. In group sitautions, all of your other pets have more relevant special abilities which either boost group DPS or increase surviability. And even in grinding slayer deed mobs, it's vastly outclassed by the lynx which does better burst damage both single target and AOE with its special attacks. The only time when this is moderately useful is in skirmishes with huge waves of mobs, particularly group skirmishes or skirmish raids.
Example fights: Skirmish raids.
Bog-Guardian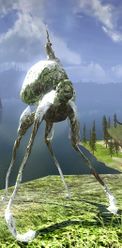 Damage: Low (ranged), medium (melee)
Flank rate: Low (ranged), high (melee)
Coolest skin: Again, the only interesting skin is store-exclusive – Tundra guardian
Food: Bowl of water. +Fire/shadow mitigation, ranged offence rating and maxiumum power. Probably the least useful food – its ranged damage is pathetic anyway and who needs extra power on a pet?
Skill 1: Angry bees – DoT damage. Autocast.
Skill 2: Root strike – Single target damage and +5% range critical debuff. Autocast.
Skill 3: Bursting root – 1min cooldown with 20% chance of starting a fellowship maneuver. Autocast.
Passive skill: Is the only pet with a ranged auto-attack, unfortunately this is more of a hinderance than use in many situations because it cripples the pet's damage and flank rate and it can't be turned off, so you have to fiddle around with the pet skills to keep it in melee range.
Comment: This pet is gained from the legendary trait you obtain from getting kindred with the Iron Garrison Guards and is the capstone for the blue line. Unfortunately as you can see from the summary, it's not a particularly good pet when compared to other options. It's a decent soloing option, with a good flank rate (second only to the eagle), decent melee damage, good survivability and the ranged attack options is sometimes useful. However it's generally inferior to the eagle, especially because you have to give up so much damage by going deep into the blue line to equip it. In group situations, it's generally outclassed as a healing option by the eagle/spirit + 5 yellow/2 blue setup and the ability to start FMs and boost ranged crit chance is only marginally useful. The best use I've found for it is as a soloing pet for very tough situations, eg. older group content. It has much better survivability than the eagle and a much better flank rate than the bear so it can actually make a pretty decent tank, if you're willing to give it time to build up a threat lead and use inner flame when necessary to pass threat. Apart from that, it's not a great pet unfortunately.
Example fights: None.
Spirit of Nature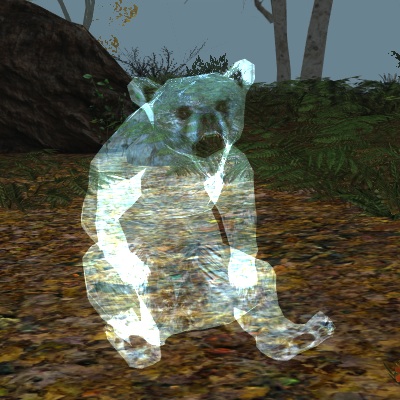 Damage: N/A
Flank rate: Medium
Coolest skin: All of the Update 6 spirit talismans are pretty cool (bear, boar, aurochs, raven etc.) – they turn the pet into a ghostly form of these animals.
Food: N/A
Skill 1: Flashing flank – guaranteed flank on 45sec cooldown. This skill can't miss.
Skill 2: Nature's light – pseudo revealing-mark. 5% damage return for 30s on 1min cooldown.
Skill 3: Nature's gift – heals the fellowship for 10% of the pet's morale (usually going to be about 600-800 morale healed) 10% of each party member's morale, and this is affected by incoming heal rating.
Passive skill: Aura – this pet has an aura which gives mobs a 5% miss chance debuff.
Comment: A somewhat controversial pet initially, but after the changes in Update 5 I feel that it's found a pretty good niche. It's a really good healing pet if you're trying to heal small group content – despite its lower flank rate than the eagle (about 50% less), the ability to control when you get them actually makes it far more useful and its other skills complement the role really nicely. It's a good pet to pull out in quite a few situations, including the last boss in Dargnakh Unleashed and sometimes in raid trash situations where you don't really have the time to micromanage your pets and the +5% miss chance aura is actually pretty good.
Example fights: ToO – trash. Dargnakh Unleashed.
Statistics
I've been meaning to collect some statistics on pets for a long time and finally got around to doing it. Unfortunately the training dummies are unusable for parses as they constantly boot you out of combat, so the pet stops attacking which completely messes the stats up. So for these tests I found some level 75 mobs in the Great River (battle cats as it happens, because they're decent health, don't have any special attacks and are nicely spread out, avoding multi-mob complications) and killed 5 of them with each pet. This meant that I did about 35,000 damage with each pet. While the results could always get more accurate with more numbers, the numbers were fairly consistent from encounter to encounter so I'm happy enough with them. If you want to see the raw results then you can email me (psychobabblelotro at gmail.com). I turned all relevant DPS skills on for the testing (other than the lynx's surprise attack which would skew the results), and didn't bother testing the sabertooth because you're unlikely to ever use it outside of AOE situations (which I wasn't testing).
Here's the summary results:
| | | | | | |
| --- | --- | --- | --- | --- | --- |
| | Raven | Bear | Lynx | Eagle | Bog-guardian |
| Total attacks recorded | 486 | 152 | 281 | 299 | 203 |
| DPS | 52 | 93 | 77 | 50 | 74 |
| Attack speed (hits per sec) | 0.8 | 0.4 | 0.6 | 0.4 | 0.4 |
| Hit chance | 96% | 100% | 95% | 95% | 96% |
| Flank chance | 5.1% | 5.3% | 1.4% | 11.7% | 9.9% |
| Flanks per minute | 2.3 | 1.2 | 0.5 | 3.0 | 2.5 |
| Avg time between flanks | 26sec | 48sec | 116sec | 20sec | 24sec |
There's a few interesting points that jump out here, some of which challenge common assumptions about pets:
The eagle is the highest flanking pet, doing an average of 3.0 flanks per minute compared to 2.5 for the bog-guardian and 2.3 for the raven.
The bear has approximately the same flank chance as the raven, but it has a 50% slower attack speed and so only actually flanks half as often.
As expected, the lynx has a truly awful flank rate.
All of the pets do pathetic damage in the context of level 75 mobs, but the bear had significantly higher DPS than any other pet, including the bog-guardian.
In the 152 attacks recorded, the bear didn't miss a single time which was very surprising.
The legendary status of the eagle and bog-guardian pets (which gives +1 level) doesn't actually seem to give them a higher hit chance than the other pets.
I hope that information has been of some use. If you have any questions about the stats or, comments about pets generally then feel free to post in the comments.